Last week I was at the Product Management Festival conference in Zurich. It is my first time attending the event and I think won't be the last. In this post I will share some bullets from the different sessions I attended, and other thoughts.
First, a note on accessibility
The event venue was a big cinema theatre. The theatre was multi-floors and the event was on 1st and 2nd floors. I arrived and found the elevators require a key to go anywhere including outside of the building. And it was the same for the accessible bathroom. I waited for 10-15 minutes to find someone to take me up, by then I was boiling in frustration.
I can tolerate an inaccessible place but can't tolerate an accessible place with stupid rules. So instead of going to the keynote I went straight to one of the organizers and told her this is unacceptable and I need a key during the event duration. She said she will talk to the theatre managers and get back to me.
I went to the keynote and when I came out, she said they refuse to give me a key because I am not an organizer. I told her I am not a normal attendee and I can't wait 15 minutes every time I want to move between floors. You can tell them I am an organizer. I can sign you something to give the key back but I can't spend the event this way. Upon my persistence she gave me her own key.
Later on the day one of the main organizers came to me and said she wants to make sure things are going well with me. She was nice and gave me her phone number in case I faced any problems. On the second day they gave me a key in the morning and it was all fine since then.
I don't know if being part of Zalando which is a sponsor of the event played a role in this. I hope not. I also don't expect people to be prepared in advance with solutions to accessibility issues, as they don't often have attendees on wheelchairs at conferences. However, I expect them to be smarter when there is a solution and try to implement it instead of accepting the first no. If I wasn't persistent I would've suffered every time I wanted to go somewhere.
The most interesting takeaways
The keynote by Glassdoor COO
Glassdoor has big information asymmetry compared to other communities. This comes from employees as content creators not working at many companies of which they can submit reviews. This led them to enforcing the "Give to get" concept in which they ask users to submit a review before they can get access to reviews and salary information. It creates a friction but solved the problem on the long run.
The data is shaped by the questions you ask. That's why they ask 3 questions for every user submitting a review: What's good about the company? What's bad? And what's the message to the management?

Monetizing vanity: Glassdoor monetizes companies' desire to look good and optimize their profile (Similar to LinkedIn's look at who viewed your profile). Also their desire to see reviews on the CEO (I didn't know this option exists).
Start-up PM vs. Enterprise PM by Tom Leung
This talk resonated a lot with me. Having worked at both big and small companies. I will just share the slides that had the best advice.
One question that was asked was about communication: The answer from Leung was that good PMs can summarize anything into 3 points. The audience laughed at this answer and I felt close to it as I really like the number 3. I even try to never have two points for an argument. It sounds stupid but it is psychological.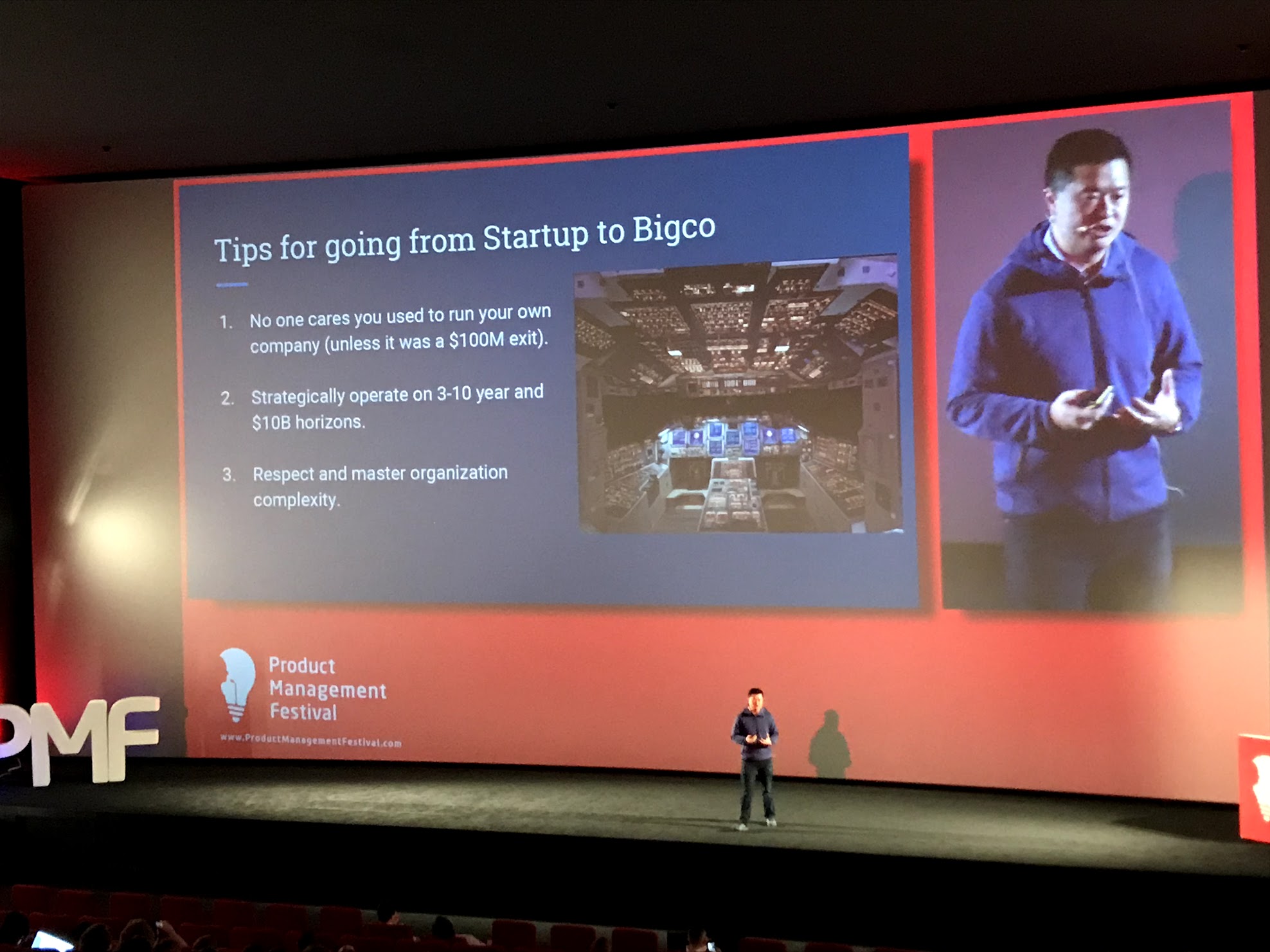 Ask Me Anything with Mark Hull, Director of Product at Facebook
There wasn't much interesting in this session, but one answer I got to a question I had about how Facebook prioritizes between competing products other than the newsfeed (e.g. Groups, events, marketplace…etc). He said something along the lines of you have to really fight for it, which felt honest to me. He also said they try to mitigate this by personalization. Each user gets a different navigation based on what they browse.

One interesting observation is how he sounded like everyone speaking publicly from Facebook. He is probably well trained to repeat the same narrative around how slow they were to react to the current mess, or he heard it so many times that it became easy to repeat. Impressive lesson in consistency.
Nailing Measurement: a Framework for Measuring Metrics that Matter with Josephine Lee and Isha Mehta, Atlassian
This one resonated a lot with me as it is one of my biggest criticisms of the German work culture. I call it action driven vs result riven. Output vs outcome sounds nicer.
Building for the next billion users with Menal Mehta, Google
This talk showed Google's long term thinking beyond the moonshots. They see how the next billion users are coming from the rising income levels in places like India, Mexico, and other emerging markets.
Menal showed how big the efforts they are doing on the ground by sending different teams to these low income, low tech penetration locations and talking to users there.
Two questions I asked her since I am from a developing market myself: How do they ensure these insights are reflected in the product designs and not lost in translation? And How do they engage governments since they can make or break things?

For the insights she said they try doing this by sending the team often to those locations, and by having some locals on the ground to keep bringing those insights.

For the governments she said that's a topic by itself (I can imagine).
Pricing as a Product Feature by Kapeesh Saraf, Head of Growth at Coursera
I liked the part about how price drives user behavior. Coursera got more completions when they changed from a per course pricing to a monthly subscription.
I also liked how he mentioned that after some point, adding more price points and options led to more confusion on users mart and more debt on the developers side. Don't do this.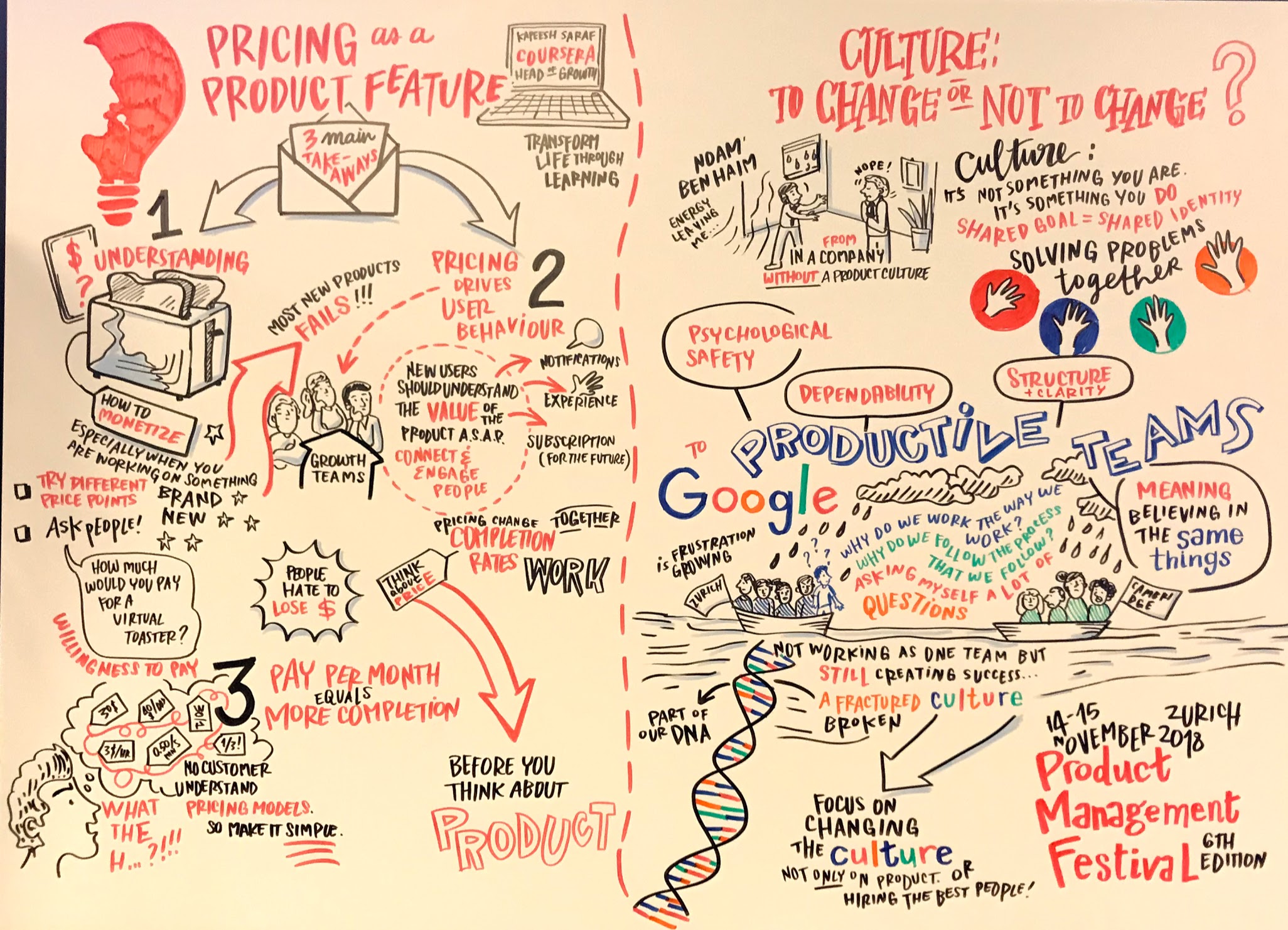 Becoming a problem solver by Michael Perry from Shopify
This talk was perfect. The narrative. The arguments. The solution. The story. It was a master show.
Michael talked about how all the focus on technology, trends, experience, and solutions costed him a lot of his time and effort. And how focusing on the problem is the only thing that matters.
The loop he described in the slide below was the biggest takeaway for me from the conference. I fall into it all the time. It is really hard to genuinely focus on problems.
Closing thoughts
Overall it was it was worth attending. I saw many interesting thoughts. And there were ones that weren't as interesting. But in general it felt good to see the grass on the other sides, and see that everyone is having their own problems, and if we don't have those problems, we wouldn't have our jobs.
Note: The illustrations are definitely not mine. They were done by Carlotta Cataldi.